Are you ready to take your video content game to the next level by turning your text into human-like speech in minutes without the hassle of recording and editing?
Read on to find out how to use online text-to-speech tools to create ready-to-publish, high-quality audio files with just a few clicks.
What Is Text-To-Speech Technology Exactly?
Text-to-speech, also known as TTS, is a game-changer for accessibility and convenience, and it's all thanks to artificial intelligence (AI). With text-to-speech, computers can convert written text into natural-sounding speech that mimics human speech patterns. TTS technology has come a long way in recent years and has become an extremely powerful tool. It can be used for a variety of applications, such as audiobooks, voiceover work, and accessibility tools for visually impaired individuals.
Do you know that Alexa, Siri, and Google Assistant are also powered by text-to-speech technology? And now it's revolutionizing content creation, enabling creators to generate audio for their videos without having to record them.
Are Text-To-Speech Tools Better Than Manual Recording? (Why Use Text-To-Speech Tools?)
Text-to-speech tools are the Swiss army knife for content creators ready to scale up their content game and create more within less time. While recording your own voice seems like the most obvious and authentic option, it can be a time-consuming and daunting task — buying equipment, recording your voice, hiring editors, and going through a never-ending feedback loop!
And let's not talk about the retakes and coffee breaks in between!
With AI-powered online text-to-speech tools, you can get audio within minutes 24*7. No coffee breaks. No retakes! Moreover, some tools can even convert your text into speech in multiple languages, enabling you to reach a global audience.
How Can You Convert Your Text To Speech on Dubverse?
Step 1: Go to Dubverse Website, select Product and click on Text to Speech from the dropdown.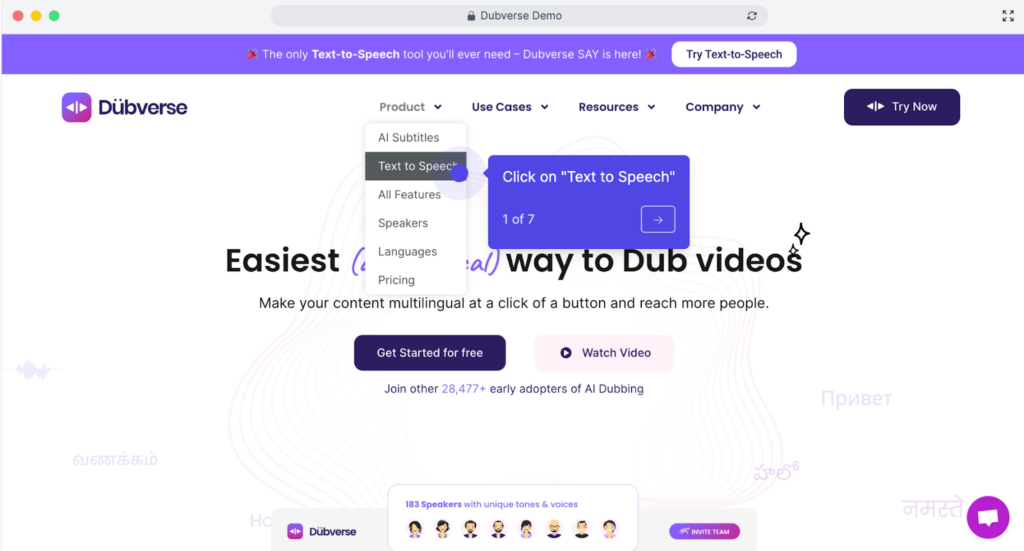 Step 2: Click on "Create text to speech" and the button will redirect you to Dubverse's TTS tool – SAY.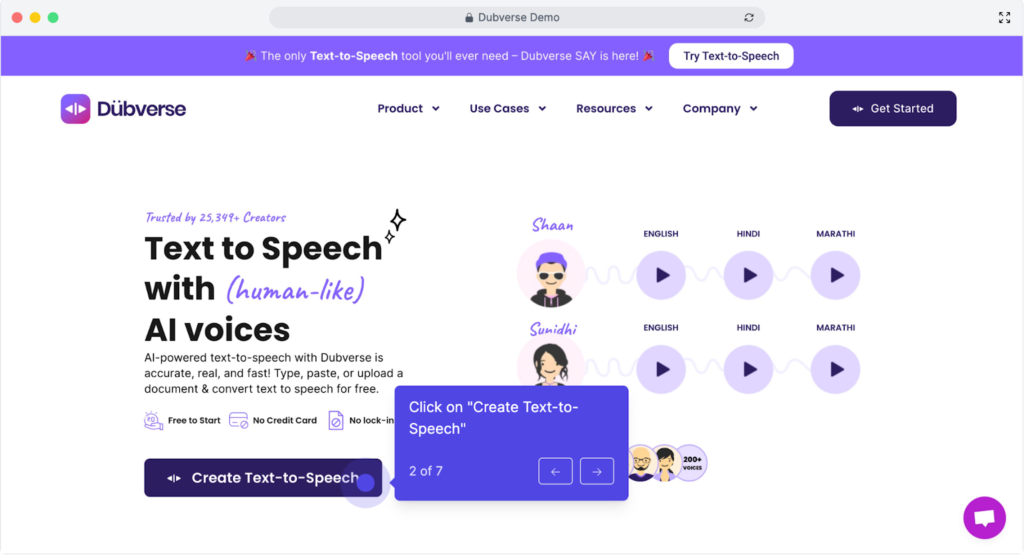 Step 3: Enter your text. You can type in or copy-paste from the source. If you have a doc file, you can also upload it from your local drive.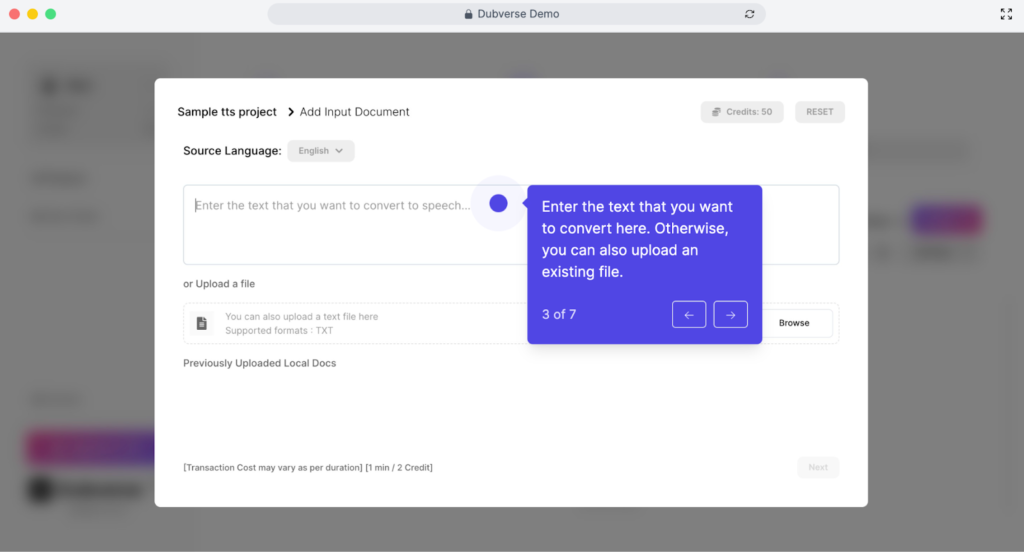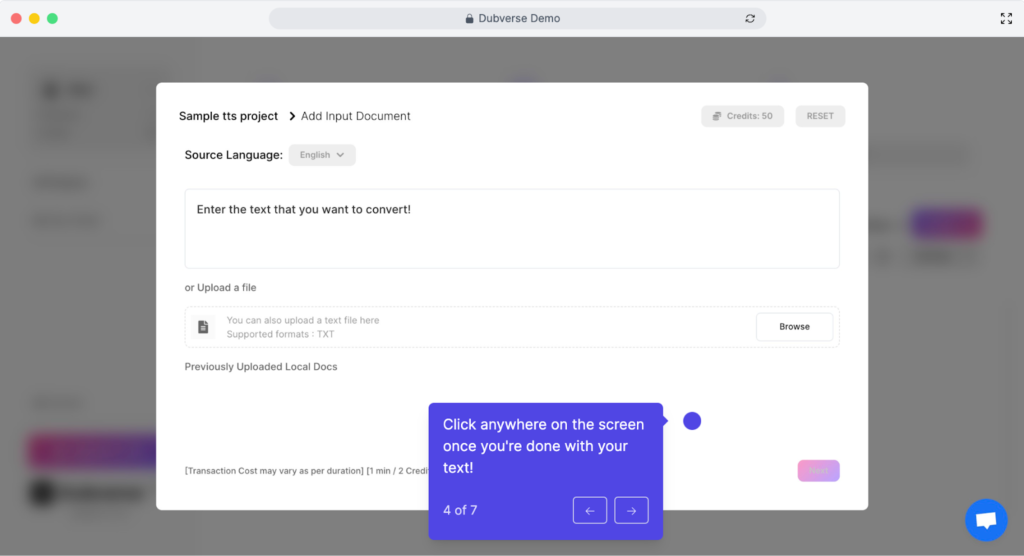 Step 4: Click on the Next button!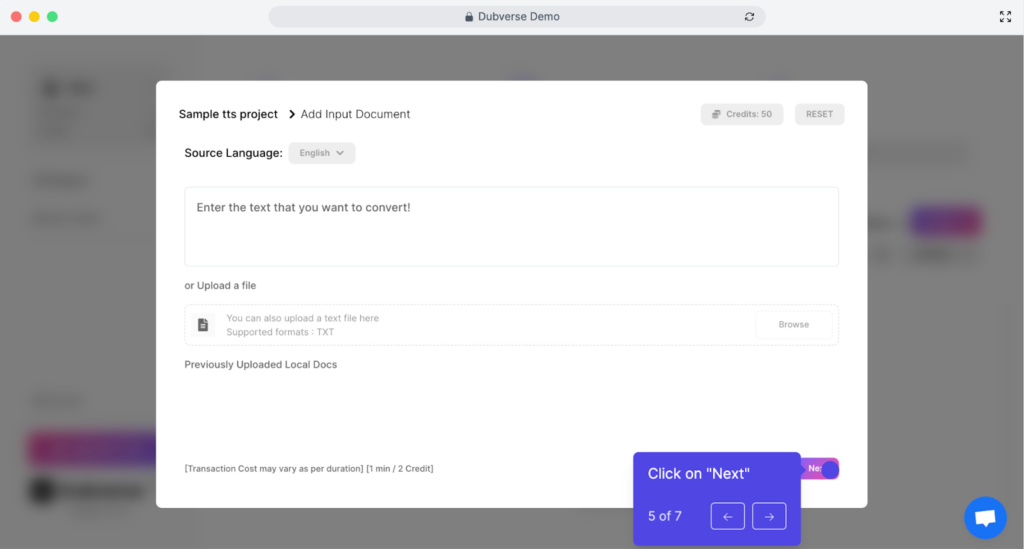 Step 5: Click on the '+' icon next to the speaker you want to use for your text!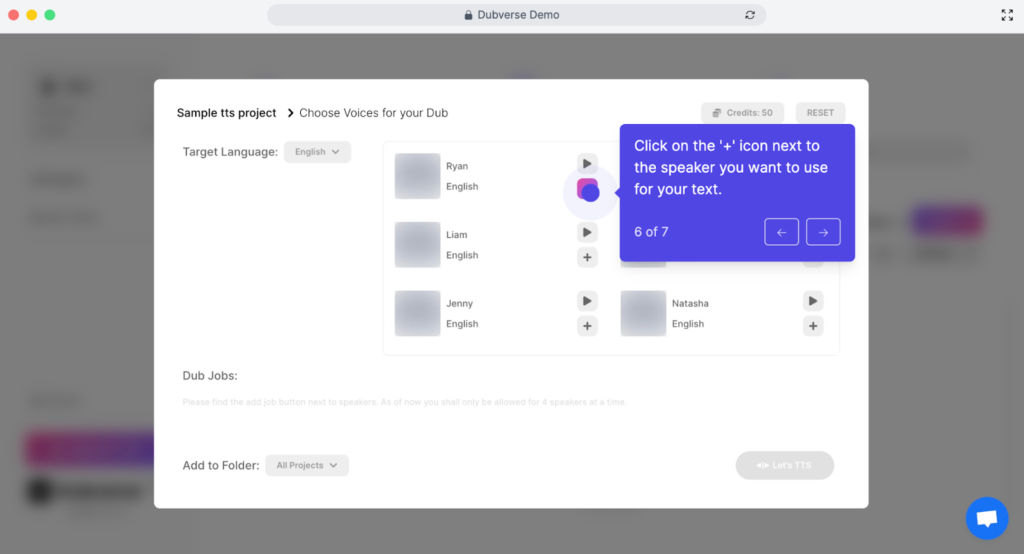 Step 6: Now, select the language you want to turn your text into. On the right, you will find the speakers available in the target language. Select the speaker you like by clicking on the '+' button beside your favorite speaker!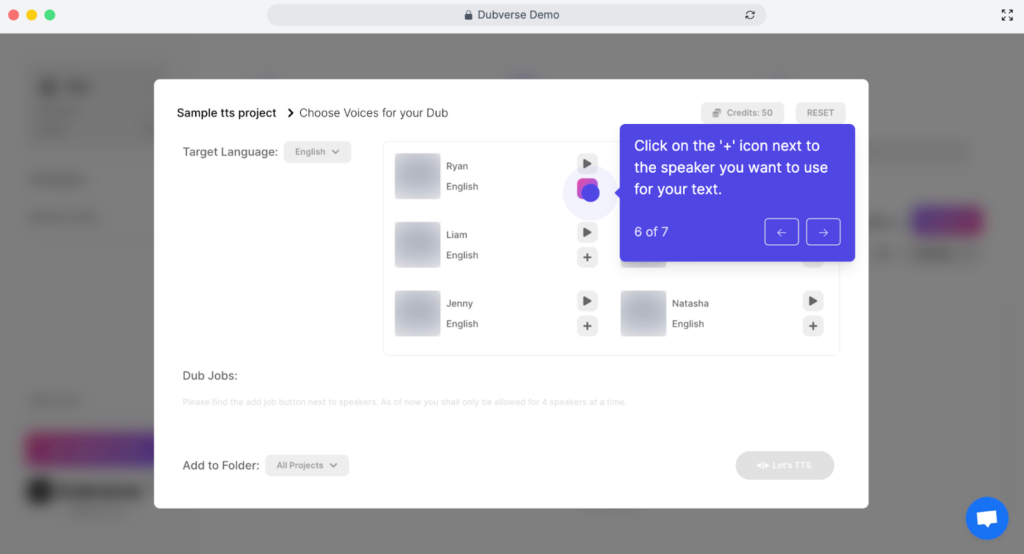 You can also add multiple speakers and languages simultaneously.
Step 7: Once you have done these steps, Let's TTS and voila! You're done!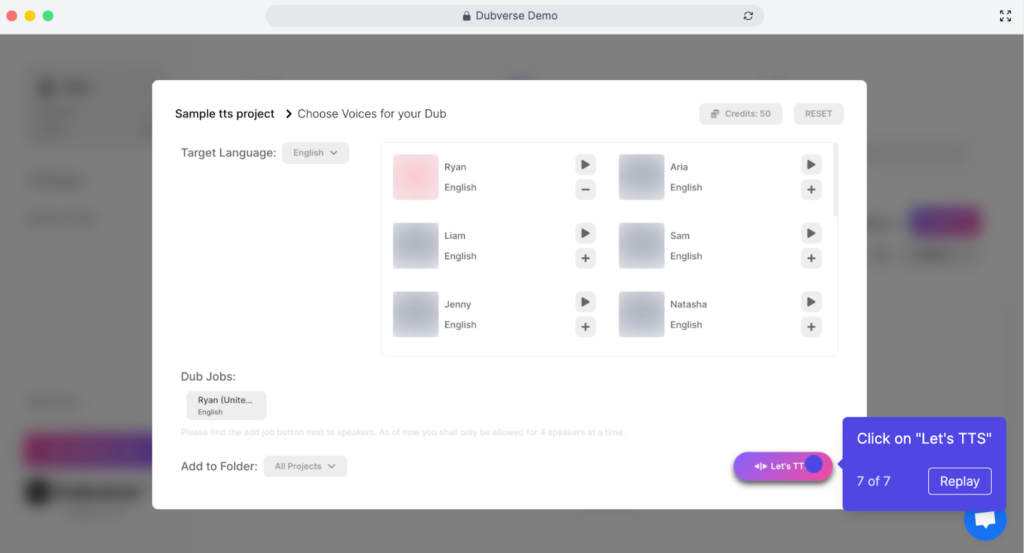 It's that simple!
If you prefer videos over text, here's an easy-to-follow tutorial:
Dubverse's SAY Makes It Easy — Why Dubverse's Text To Speech Tool?
While there are hundreds of text-to-speech tools available online, Dubverse stands out for its extensive language support and creator-centric utility. Dubverse's SAY enables you to create content in over 30 languages, including 11+ Indian languages, with high-quality, realistic voices.
1. Reach Global Audiences
If you're a creator, Dubverse's SAY enables you to create more content at the same time, allowing you to reach global and regional languages. Dubverse is the only text-to-speech tool that converts text into 11+ Indian languages in high-quality realistic voices.
2. DIY Editing With A Simple Editor
Dubverse offers a simple editor and a range of customization options that allow users to fine-tune the output to their specific needs. You can adjust the speech rate, volume, and pitch by selecting the ideal voice from a myriad of options that is personalized and suitable for your content.
3. Collaborate With Your Team
Dubverse allows users to work with your team members and access the tool from anywhere, anytime. You can share files, comment, and edit together to minimize feedback loops and speed up production.
4. Share On Any Platform
You can share your speech directly from the studio to Facebook, Twitter, Whatsapp, LinkedIn, or email. This makes it easy to distribute your content with just one click.
5. Connect With Experts
Unlike other tools, Dubverse offers also offers professional language support from human experts to help you perfect your voiceover so you can ensure accuracy in language and speech. If you're unsure of the translation, get your voiceovers reviewed by Dubverse professionals.
6. Maintain Consistency With NeoDub Speakers
The NeoDub speakers, Shaan and Sunidhi, empower you to convert your text to speech in the same voice for multiple languages to build a strong, credible, and consistent brand voice throughout.
7. Do More In Less Time
Dubverse's bulk actions feature enables you to download, move, regenerate, and delete multiple files with a single click, saving you time and streamlining your workflow.
Dubverse SAY is an all-in-one solution for creators, podcasters, educators, and anyone else who wants to convert their text into speech.
Turn Your Text To Speech!
Text-to-speech technology has revolutionized the way you create and share content. For creators and businesses who want to do more, it is an excellent technology that enables you to focus more on ideating and perfecting your content without worrying about recordings and execution. Not only this, TTS technology gives voice to creators who do not wish to record.
Whether you're creating short-form content, educational videos, or documentaries, Dubverse SAY has got you covered. Ready to give it a shot? Try Dubverse NOW.