We are excited to announce a new feature update at Dubverse! And we're loving it!
Thanks to the feedback and requests of our users, we have added two new languages to our growing list of supported channels. And with the power of AI, we have also brought 2 new NeoDub speakers on board, who can speak 11 Indian languages!
You can now Dub and Sub your videos in Urdu and Punjabi as well — two widely-spoken languages in the world spoken by 230 million and 150 million people respectively.
With this update, you can expand your audience reach to 350+ million people.
Besides this, our passion for AI technology and ML has pushed us to experiment with CLVC (Cross-Lingual Voice Cloning) resulting in the launch of NeoDub.
If you don't know what CLVC is, here's a quick brief:
CLVC (Cross-Lingual Voice Cloning) uses artificial intelligence (AI) and machine learning (ML) for generating dubbed versions and subtitles of video content. It focuses on creating a voice model of a single speaker that can be adapted to different languages.
How does it help?
For a multilingual country like India, where there are many different languages spoken, and where content creators need to reach audiences in multiple languages, it helps brands and creators maintain a consistent voice in different languages and add more naturalness and accuracy to the speech. One speaker with multiple languages strengthens the brand positioning and voice.
Our team has worked extremely hard to bring Shaan and Sunidhi on board. Check out how they sound:
Listen to Sunidhi speak multiple languages
Listen to Shaan speak multiple languages
Ready to give it a shot?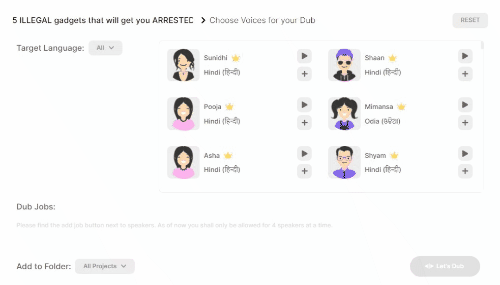 And there you get your new voice. Same speaker, more languages.
We wish you like them as much as we did. Let us know your thoughts. 
We hope that this new update will be useful for our users who are looking to expand their reach and connect with audiences in new markets.
If you have any feedback or suggestions on how we can improve our services, reach out to us. We are always looking for ways to better serve our users and provide the best possible experience.
Happy Dubbing!