Your pre-existing YouTube video content is a treasure trove of value waiting to be tapped. Recognizing the potential within your existing videos offers creators the chance to refine and optimize their work, explore new demographics, and expand their content library without the need to start from scratch. But what if there was a method to amplify the influence of each video, reaching fresh audiences and extending the lifespan of your content? This is where the art of repurposing steps in – a tactic embraced by astute creators and marketers to reshape their YouTube videos into a diverse array of captivating formats, tailored for various platforms. Consider this an opportunity to breathe new life into your creativity and amplify your outreach and appeal.
Whether you're a seasoned content creator striving to broaden your audience or a business eager to extract the most value from your video investments, this guide serves as your ultimate companion for unlocking the full potential of repurposing. Join us in exploring imaginative methods to invigorate your content strategy and leave an indelible mark on both your existing and prospective audiences.
Text-Based Repurposing
Blog Posts: Repurpose your YouTube videos by transcribing the content and expanding upon key points. Transform the video narration into detailed written content, enhancing it with additional context, insights, and images. These blog posts not only cater to readers who prefer text-based information but also improve your search engine visibility through SEO optimization.
LinkedIn Articles: Adapt your video content into in-depth articles for LinkedIn's professional audience. Share thought-provoking insights and actionable advice from your videos in a format that aligns with LinkedIn's business-focused community. These articles can position you as an industry thought leader, encouraging engagement and networking among your peers.
Email Newsletter Content: Create concise summaries of your video content to share with your email subscribers. By offering valuable insights and highlights from the video, you keep your audience engaged even if they haven't watched the complete video. This strategy serves as a reminder to your subscribers about your YouTube content and provides them with immediate value.
Guest Posts: Extend your reach by repurposing your video content into guest articles for relevant blogs in your industry. Use the core concepts from your videos to provide fresh insights and perspectives to new audiences. This approach not only helps you tap into new viewers but also establishes your authority beyond your own platform.
Twitter Threads: Break down your video's main points into a series of connected tweets, creating a cohesive thread. This method leverages Twitter's character limit to share valuable insights in a format that encourages interaction and discussion. It's a great way to pique interest and direct your Twitter audience to your YouTube content.
Visual Repurposing
Create Short Clips: Take advantage of social media's short attention spans by breaking down your longer videos into short, engaging clips. These clips highlight key moments or insights, making them highly shareable and suitable for platforms like Instagram, Facebook, Twitter, and TikTok. They offer a quick way for viewers to get a taste of your content before deciding to watch the full video.
Make GIFs: Identify intriguing and shareable moments from your videos and turn them into GIFs. GIFs are ideal for sparking conversations and reactions on platforms like Twitter, where they can help your content stand out in crowded feeds. These GIFs can serve as entry points to your full-length videos, driving traffic and engagement.
Slide Decks: Transform the main takeaways from your videos into visually appealing slide presentations. These slide decks are perfect for sharing on platforms like SlideShare, LinkedIn, or your own website. The concise format makes it easy for viewers to grasp key points quickly, making them a valuable resource for professionals seeking organized insights.
Infographics: Condense complex information from your videos into visually striking infographics. Visual learners will appreciate this format, and infographics can be easily shared on platforms like Pinterest, Instagram, and your own website's blog. They're an effective way to distill your video content into bite-sized, memorable pieces of information.
Animated Shorts: Transform your video content into animated shorts to enhance engagement and make complex concepts more understandable. Animation adds an element of visual interest that can capture a wider audience's attention, particularly on visually-oriented platforms like Instagram or YouTube Shorts.
Audio-Based Repurposing
Podcast Episodes: Convert your video content into audio format to tap into the growing podcast audience. This allows you to reach people who prefer consuming content while commuting, working out, or engaging in other activities. Repackaging your videos as podcasts can introduce your content to a new set of listeners.
Audio Snippets: Extract compelling audio segments from your videos and share them on platforms like SoundCloud. These audio snippets can act as teasers, giving listeners a taste of the valuable insights your full videos provide. This strategy can help you reach audiences who prioritize audio content consumption.
YouTube Podcasts: Cater to viewers who prefer audio-only experiences by repurposing your video content into podcast-style episodes on YouTube. This approach offers an alternative way for your audience to engage with your content, expanding your reach beyond traditional video formats.
Interactive and Engagement-Oriented Repurposing
Quizzes or Polls: Engage your audience by creating quizzes or polls based on insights from your videos. Platforms like Instagram Stories, Facebook, and Twitter enable you to interact with your audience while promoting your content. This strategy encourages participation and can lead viewers to explore your original video content.
Webinars: Reuse your video content to host live webinars or workshops. Use the video's content as a starting point and engage participants in real time by answering questions and fostering discussions. Webinars provide a direct way to connect with your audience and offer additional value beyond the original video.
Facebook Live Sessions: Utilize your video content as a topic for live sessions on Facebook. Interact with your audience in real time, elaborate on the points made in your video, and address questions or comments. Live sessions add a personal touch and encourage engagement through direct interaction.
Short-form and Trend-Centric Repurposing
Instagram Reels or TikTok: Tailor your video content to fit the short-form video format of platforms like Instagram Reels and TikTok. Leverage trends and challenges to capture the attention of younger audiences and tap into the virality potential of these platforms.
YouTube Shorts: Adapt your video content to the YouTube Shorts format, which focuses on brief, vertical videos. This allows you to engage with a broader audience on the YouTube platform by leveraging the short-form video trend.
Pinterest Pins: Create visually appealing pins using images and text from your videos. Pinterest users often seek inspiration and guidance, making this platform an ideal space for sharing repurposed content that aligns with users' interests.
Educational and Structured Repurposing
Online Courses: Develop comprehensive online courses using your video content as a foundation. Organize your videos into structured modules, add supplemental materials, and create a valuable learning experience for your audience.
Whitepapers: Use your video content as the basis for in-depth whitepapers or research reports. These longer-form resources can provide comprehensive insights for your audience and position you as an expert in your field.
Case Studies: Create detailed case studies based on the concepts explored in your videos. Showcase real-world examples, results, and lessons learned, demonstrating the practical application of your content.
Real-Life Applications:
Live Workshops or Seminars: Host in-person or virtual workshops and seminars using your video content as a foundation. Provide interactive learning experiences that expand on your videos' topics and allow participants to ask questions.
Incorporate into Presentations: Integrate video snippets into presentations you give at conferences, workshops, or educational events. Videos can add dynamic visuals and enhance the audience's understanding of your subject matter.
Behind-the-Scenes Content
Bloopers and Outtakes: Compile amusing or entertaining bloopers from your video shoots into a fun, behind-the-scenes montage. This showcases your personality and creates a more personal connection with your audience.
Director's Cut: Share extended versions of your videos, including deleted scenes, additional explanations, or alternative takes. This adds depth to your content and allows viewers to explore more in-depth discussions.
User-Generated Content
Audience Testimonials: Compile positive comments, reviews, or testimonials from your YouTube videos and turn them into a video or written piece. This not only highlights the impact of your content but also showcases the engagement and connection you have with your audience.
User-Generated Videos: Encourage your viewers to create their own videos inspired by your content. Feature the best submissions on your channel or social media, fostering a sense of community and engagement.
Localized Content
Subtitles & Dubbing: Add subtitles and dub your videos into multiple languages to reach a global audience. This strategy can significantly expand your viewership and engagement. With Dubverse, it will take just 3 clicks.
Regional Adaptations: Tailor your video content to specific regions or cultures by incorporating local references, customs, or examples, making your content more relatable and relevant.
Promotional and Teaser Repurposing
Video Teasers
Generate excitement for your full-length videos by crafting short teaser videos. Highlight the most intriguing aspects of the upcoming content to build anticipation and encourage viewers to watch the complete videos.
Remember, repurposing should not be about simply copying and pasting content. It's about adapting and adding value to reach a broader audience and make the most of your existing content investment. Here are some tips to repurpose your YouTube videos effectively:
Choose the Right Videos
Select YouTube videos that have performed well and are relevant to your target audience. These could be videos with high views, engagement, or those that cover evergreen topics.
Identify the Purpose
Determine why you want to repurpose the videos. Are you trying to reach a new audience, provide a different perspective, or leverage the content on another platform? Clarifying your goals will help guide the repurposing process.
Optimize for the Platform
Each platform has its own format and audience expectations. Tailor the repurposed content to fit the specific platform's requirements. For example, videos on TikTok need to be short and engaging, while LinkedIn might be more suitable for professional insights.
Optimize SEO and Keywords
If you're repurposing for platforms like blogs or podcasts, optimize the content with relevant keywords for better discoverability.
Monitor Performance
Keep track of how your repurposed content is performing. Monitor engagement, reach, and feedback to understand what's resonating with your audience.
Be Consistent
Repurposing should be a consistent part of your content strategy. Regularly revisit your existing content to see what can be repurposed and how it can be adapted to suit new platforms and trends.
Re-editing Techniques for the Video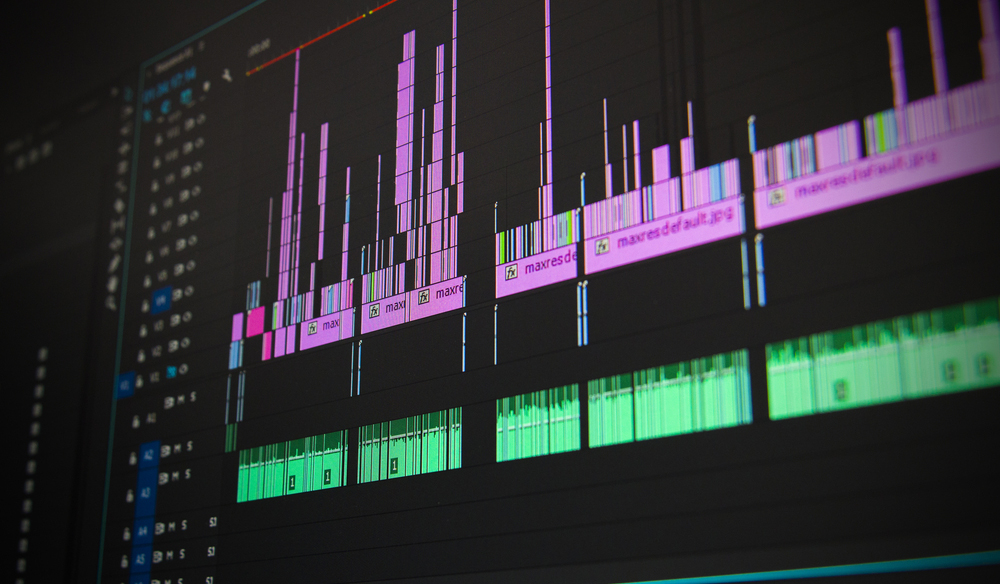 Re-editing essentially implies renovating the selected old video in a manner that aligns with the image, style, and sensibilities of various channels and their respective target audiences. This can involve a host of operations such as trimming the video into smaller fragments, introducing appealing new elements, or morphing it into a new formatting structure that resonates on the target platform.
Cutting for Specific Chunks
Editing your video to create short chunks is a winning strategy for sharing on social media platforms. These trimmed segments can function as intriguing teasers luring viewers to the full video or they can stand autonomously as concentrated content pieces offering valuable insights or thought-provoking perspectives. In fact, studies indicate that videos under two minutes long get the most engagement. So, remember to keep this research-backed insight in mind when creating your re-edited video chunks.
Adding New Elements
Inject new elements into your old videos to give them a fresh, rejuvenated look and feel. The new elements can range from animated infographics, colorful and clear text overlays, or even newly recorded intros and outros. They can serve to heighten the interest quotient of your old video and make it more engaging. Experimenting with such creative additions can significantly enhance the video's appeal, making it suitable for different audiences drawn from diverse platforms.
Maximize Returns by Repurposing YouTube Videos
Repurposing your YouTube videos is akin to discovering and exploring a goldmine that has been there all along. As a creator, repurposing offers you an efficient way to churn out content for various audiences across different social media platforms. So, it's time to dust off those old YouTube videos, polish them up, and let them shine anew. Good luck, fellow creators! And remember, the best is always yet to come.