Prepare to take your content to new heights as Dubverse SUB now empowers you to generate subtitles in more than 30 languages!
Earlier, Dubverse SUB supported subtitles in just English. With this new update, it has been enhanced to support subtitles in a wide array of Indian and International languages with an impressive 98% accuracy rate.
Improve video accessibility.
Boost SEO ranking for your content.
Reach regional and global audiences.
Adding subtitles in multiple languages is now as simple as a single click. Here's how you can do it:
1. Go to Dubverse SUB.

2. Upload your video.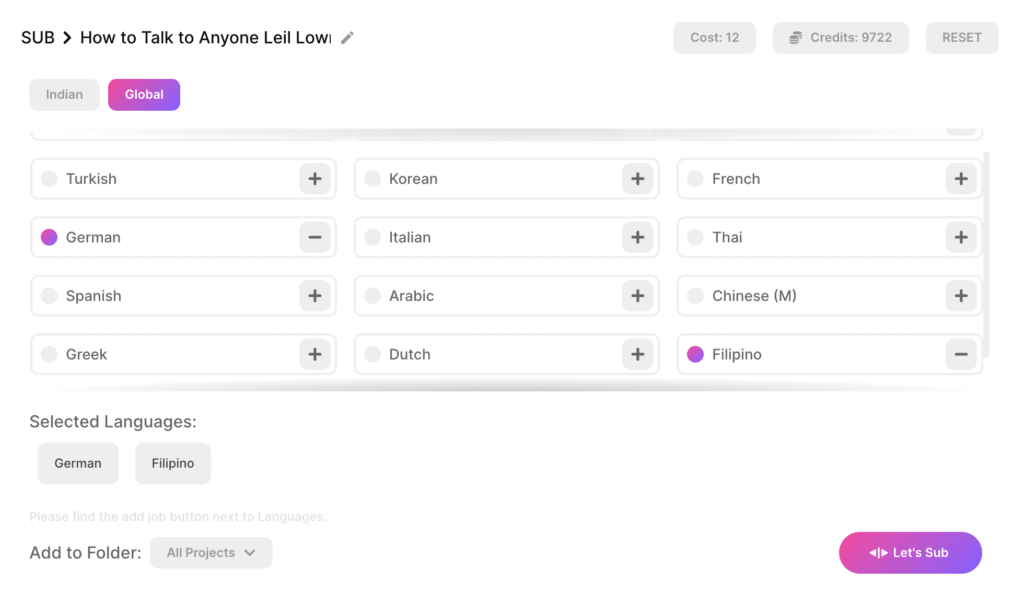 3. Select the languages you require from our extensive list, categorized into Global and Indian languages.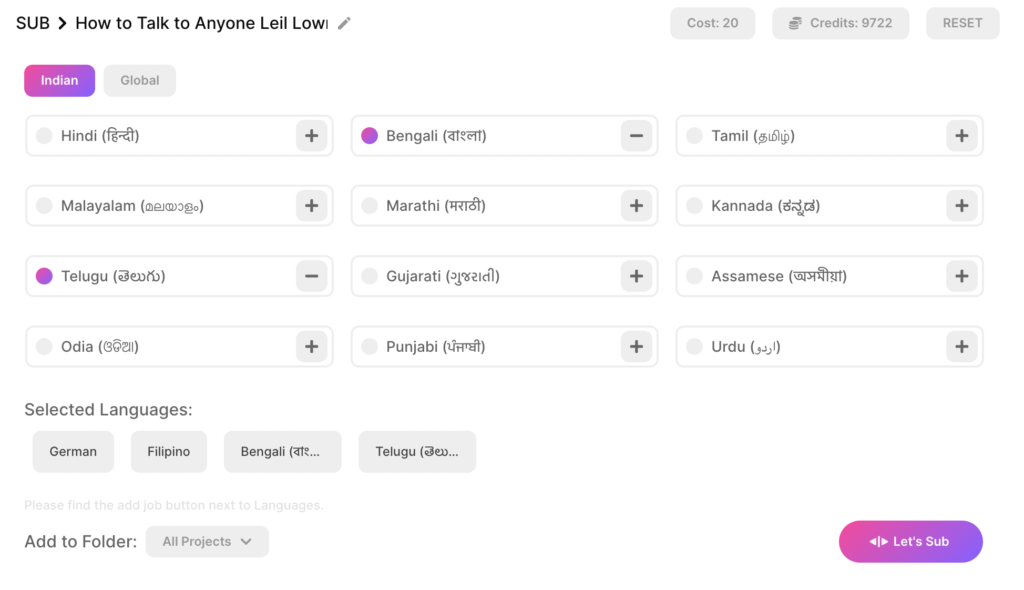 4. Click "Let's Sub"
Now, sit back and relax. Within minutes, go multilingual with time-stamped, super-accurate subtitles for your videos.
More Accuracy Than Any Other Tool!
Most tools generate subtitles and then translate them into the target language, resulting in poor quality results. What sets Dubverse apart from other tools is that we don't rely on translation for subtitles, ensuring their effectiveness and accuracy. With Dubverse, you get subtitles that actually work and convey meaningful content. You'd barely need any edits!
Nicely Categorized Language Lists
We have also improved the user interface for a more user-friendly experience. We have neatly organized language options into separate International and Indian sections, making it easier for you to navigate and find the desired subtitles effortlessly.
Faster Multilingual AI Subtitles Generation
We know speed matters to you. That's why we've supercharged the multilingual content creation process. You can generate subtitles for up to four languages at once. 
Just select the languages, hit that subtitle button, and watch as Dubverse SUB works its magic. It's never been this quick and effortless!
Our users have already witnessed a spike in views and engagement by using these new features! 
Ready to give it a try? Head to Dubverse SUB and create your first Non-English subtitles within minutes. We can't wait for you to experience them too.
*Please note that the new languages are exclusively available to our Pro and Trial users.
Upgrade today to unlock the full potential of Dubverse SUB and captivate a global audience with your videos.
We Value Your Feedback
Your experience is our top priority. We're constantly striving to make Dubverse the most user-friendly, creator-oriented platform out there. If you have any feedback, suggestions, or feature requests, we'd love to hear from you. Together, let's shape Dubverse into the ultimate video content creation hub