We have launched new subscription plans for Dubverse users, and it's better than before.
What's new?
We have two plans now: Freemium and Premium. Now, you can access Dubverse and create multilingual videos throughout the year.
Additionally, our new model is credit-based. So you pay for what you use — nothing extra.
Check out now.
So, why the change of plans?
While our 7-day free trial allowed creators to enjoy Dubverse with all its features, we didn't like how it ended. Once the trial expired, the account got locked, and users could not access the platform anymore.
The plan didn't serve the Dubverse purpose and barred creators from sharing content in multiple languages.
Additionally, it was not fair for our Sub users to pay the same as Dub users. The amount of effort, technical support, and expertise needed differ for Dub, Sub, and Say.
We aim to build a multilingual world with a fair and justified model for all. ?? So, we scratched our earlier free trial and pricing plans and upgraded them to accommodate all kinds of creators.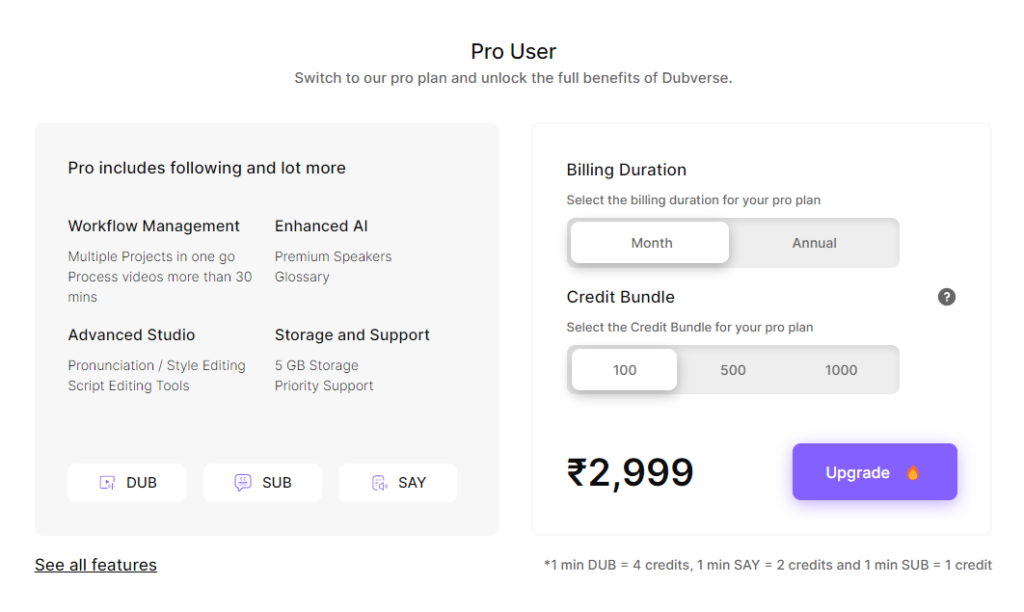 How do the new plans work?
Here's a quick breakdown of Free and Dub Pro plans.
Free
Data
50 Credits per month
Workflow Management
150+ Human-like AI voices
Custom Dashboard
Folder management
Sort, search, and filter
Collaborate with team
Output
Mp4, Mp3 and SRT format support
Default video quality 360p – 4k
Studio Features
Edit script
Retune speech and pronunciation
Dub Pro
Everything in Free+
Data
50 Extra credits= 100 Credits
Workflow Management
Get studio log/ history
Output
Create multiple projects in one go
Process videos longer than 30 minutes
Share watermark-free content
Studio features
Video configuration tools
Find and replace words
Optimize audio/video
Enhance video output quality
Use segment menu
Edit videos
Transliterate
Here's how you can use the credits:

For each minute of 
Dub: You use 4 credits
Say: You use 2 credits
Sub: You use 1 credit
This means a freemium user with 50 credits gets 13 minutes of Dub, 50 minutes of Sub, or 25 minutes of Say.
You can buy more credits if you want.
All subscribers can explore all features through a 7-day free trial before signing up. Our trial plan helps creators and businesses determine their usage and find the best plan for their needs.
Creators with minimal use can stick to freemium. Whereas those who wish to use advanced studio features, create more multilingual content and process longer videos can upgrade to Dub Pro.
Have you got any questions/suggestions/feedback? Let us know. We love to hear from you.