This version of the product update includes the latest Studio editor with new features to make your life easier while editing and generating dubs on Dubverse.
Releasing the studio with much-anticipated features from editing modes, Find & Replace, mispronunciation, Retune, Media player timeline, etc. Additionally, this release will be the first to feel like an actual product release with a release blog post, email, and Changelog.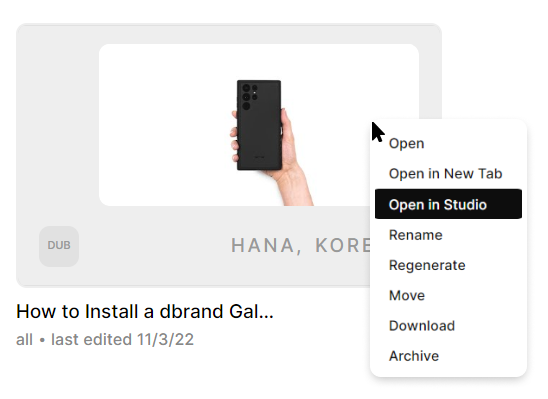 Introducing the Studio
With great feedback from our Whisper launch with the new Studio(Limited Features), we are finally launching the Studio on the Dubverse Editor.
Dive deep with the latest features we launched with the studio.
Different Modes for Editing
Dubbing being a complex problem to solve, we are realizing new ways to simplify editing workflows with easier and more relevant editing tools.
Since the dubbing workflow contains 2 levels of editing
– what you say(text) and how you say it(audio),
we have added a fully functional edit mode on both levels: Redraft & Retune.
Redraft: Text edit mode
The new Redraft Mode of editing enables a user to edit all translation and textual errors.
In order to do a more time-synced translation we provide the following meta information:
Number of words: You can compare the source number of words and the target number of words to make sure the translation is not too long or too short.
Audio Length: Now you can get to know the exact length of the audio.
Timestamps: With start and end timestamps, you can know the exact timestamp that segment would fall in. This will further help in seeking the audio and video.

Retune: Audio Edit Mode
The new Retune Mode of editing enables a user to tackle all speech and pronunciation problems with audio-level features.
Word Pronounce: The editor can now listen to how every word sounds. This removes the complexity of playing the entire video to listen to a single word.

Mispronunciation: Get instant word pronunciation suggestions for all words. just listen to a few variations and select the one you like.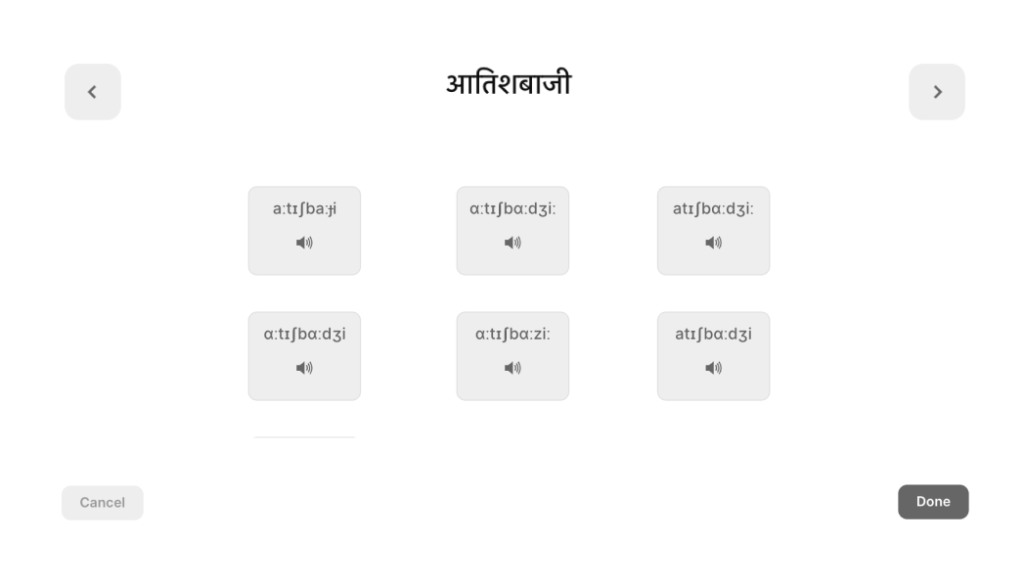 Multitone Sentences: This feature enables a user to change the tonality of a sentence with multiple variations of each sentence available.


Find & Replace ?
According to our editor usage data, about 18% of the segments which are edited just have one single-word edit. This feature creates a direct impact on all of them by saving time at once.
Since any text editor allows multiple layers of editing. Basis this one can now replace any word across the script. This will have an impact on incorrect words by ASR or on Translation. This will help in word removal as well.

Timeline & Media Bar
Edit with a much more familiar UI with a real-time media bar with sentence skipping and Media buttons for quick operation. While Editing this you are accompanied by the latest media timeline to know what part of the video you are on.

A very important part of Media Bar is to solve for feedback loop and faster editing. Ideally editing should be a one sitting job as typing the output, listening to the output and seeing the final video should help close the feedback loop.
Paragraph Mode
The Paragraph mode hides the timestamping and other details which allow the user can just edit the script like a document. This will make it less source text and timestamp dependent allowing true transcreation where a user wants high-quality output. Loved by a lot of users for just the minimal look while comparing and editing translations.
Powerful yet simple editor Studio is now live
The new Studio empowers you to create a faster and much precse editng workflow. A complex problem does not alwasy need a complex solution. Solving with a state of the art sphisticated Studio is our way of breaking the language barrier one step at a time. Try the Studio and do share your Feedback with us.