YouTube is the second most-visited website globally, with over 2 billion monthly active users. However, there's a hidden danger looming behind those catchy videos we all love to watch: YouTube's automated captions. But what's the big deal? Let me ask you something: do you care about your viewers? Do you want them to understand the actual message in your content?
Today, we'll dive deep into the real issues with using YouTube's automated captions and why professionally created subtitles are the way to go. We'll also show you how to generate subtitles with professional online subtitle tools within minutes.
What are Auto-generated Captions and Subtitles?
First things first. To understand the problem, we need to know what captions and subtitles are and how YouTube generates them automatically. Both captions and subtitles consist of synchronized timed text that appears on the screen while watching a video, providing clarity and comprehension of the content. The difference between them is that captions are a transcription of the audio, including other sound effects, whereas subtitles are translations of the spoken language into other languages.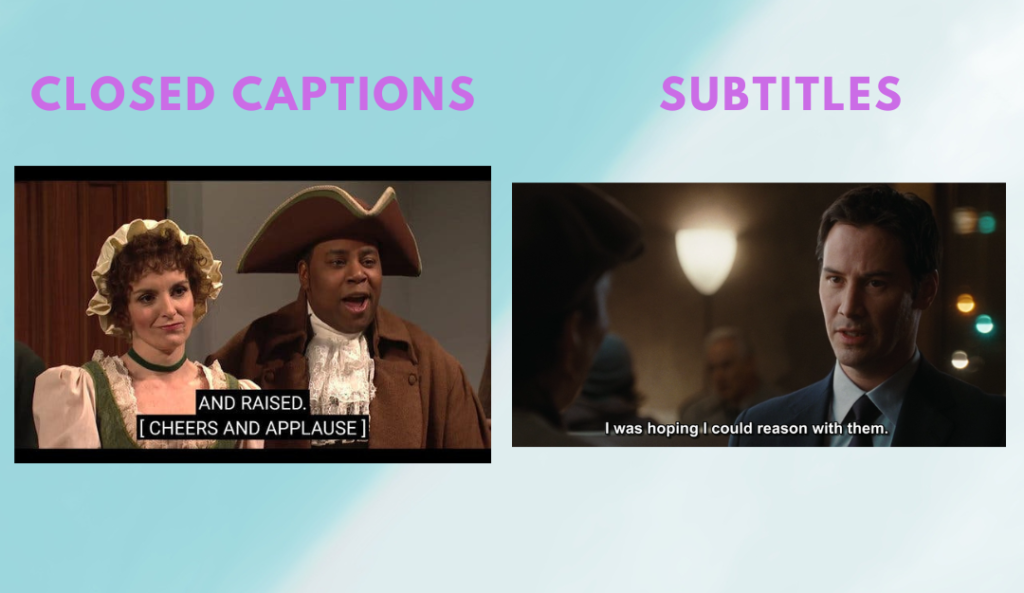 YouTube offers a feature called automated captions, which uses sophisticated speech recognition and machine learning technology to convert the audio into text format automatically. While this feature sounds convenient, it can have severe accuracy issues, which we will discuss in the next section.
Why Are YouTube's Auto-generated Captions Not Accurate Enough?
The primary issue with YouTube's automated captions lies in their ability to transcribe audio accurately. Generally, the accuracy rate for automated captions is only around 60-70%, which is not good enough for professional content. Several factors affect this accuracy:
Poor audio quality: Background noise, low volume, or unclear sound can reduce the accuracy of the automated captions significantly.
Accents and dialects: Automated captions often struggle while processing different accents, dialects, or ethnic terms.
Technical jargon and uncommon words: If your video contains technical terms or uncommon words, automated captions might misinterpret them.
Speech patterns: Fast speaking, slurred speech, or overlapping conversation can cause errors in the automated captions.
How Do Inaccurate Captions Impact Your YouTube Channel?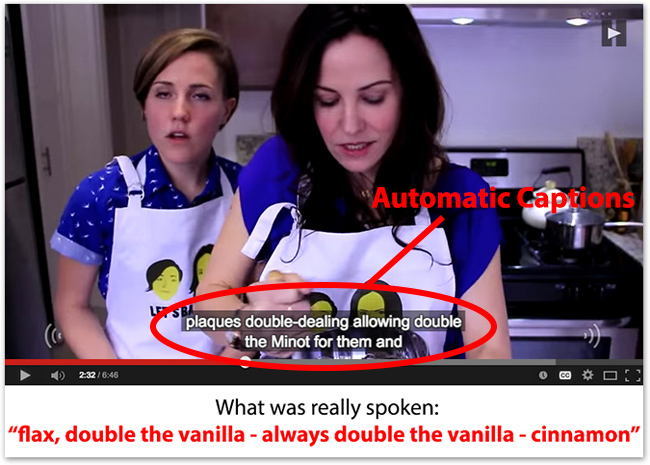 Now that we know why YouTube's automated captions are not accurate enough, let's talk about the consequences of using them for your YouTube content. Potentially, inaccurate captions can impact your channel negatively in several ways:
Viewers who rely on captions for accessibility reasons, such as people with hearing impairments, will have a harder time understanding your content
YouTube uses the caption text to index your video, so inaccurate captions may not only hurt your video's discoverability but also its relevance to specific keywords.
Automated captions can sometimes misinterpret words that sound similar to profanity or offensive language, which can turn off viewers and negatively affect your channel's reputation.
Automated captions may not accurately capture the essence of your message, especially if your content is complex or technical, leading to a loss of viewers.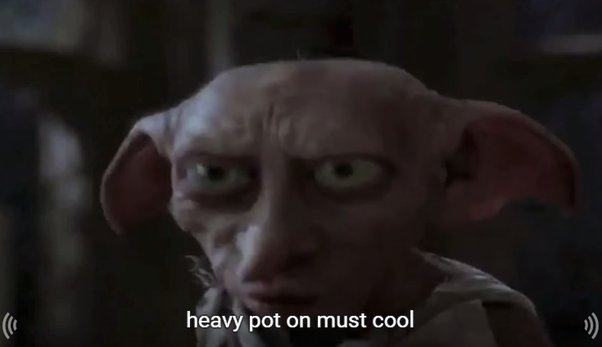 How to create accurate subtitles for your YouTube videos?
By now, it should be pretty clear that manually creating and uploading subtitles for your YouTube videos is the way to go. But how do you create accurate subtitles for your videos? Here are some popular ways:
YouTube's built-in subtitle editor
YouTube's editor is simple and easy to use, allowing you to type captions directly while watching your video. You can also adjust the timing and use shortcuts to improve your efficiency. However, it would take you a lot of time to type them yourselves and will be an additional time-consuming step into your workflow.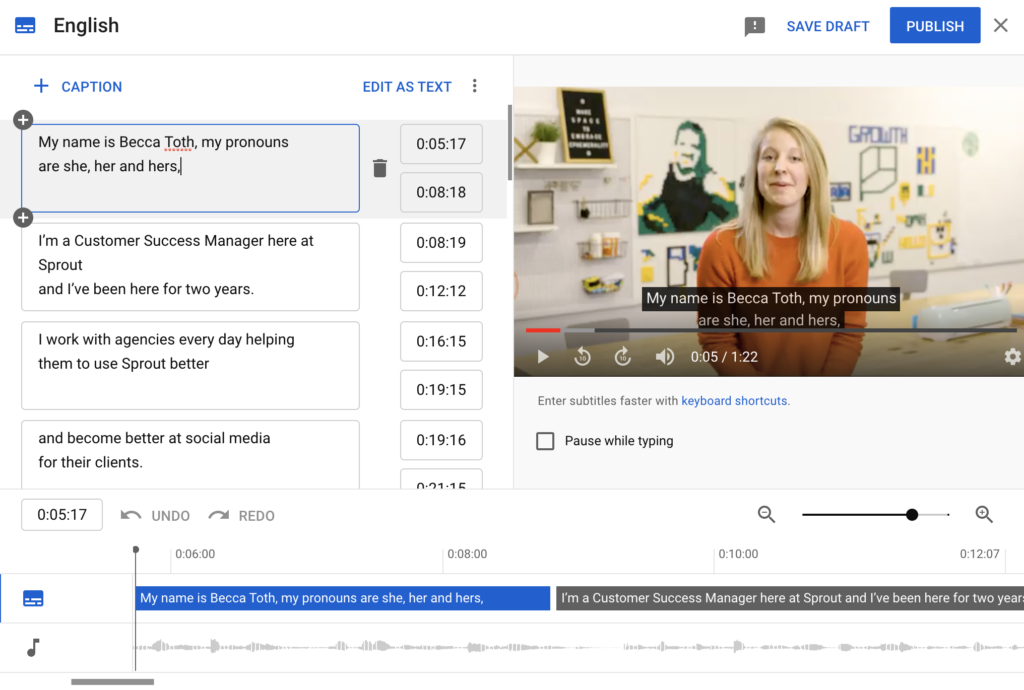 Professional captioning services
If you have a large volume of videos or need high-quality captions, you can consider hiring professional captioning services. These services employ skilled captioners who ensure accuracy and adherence to industry standards. They usually take around 24 hours or turnaround time and it might be expensive to employ such services.
Online Subtitle Generator Tools
Several third-party tools are available that facilitate the process of creating subtitles. These tools often offer advanced features such as automatic transcription, translation, and synchronization.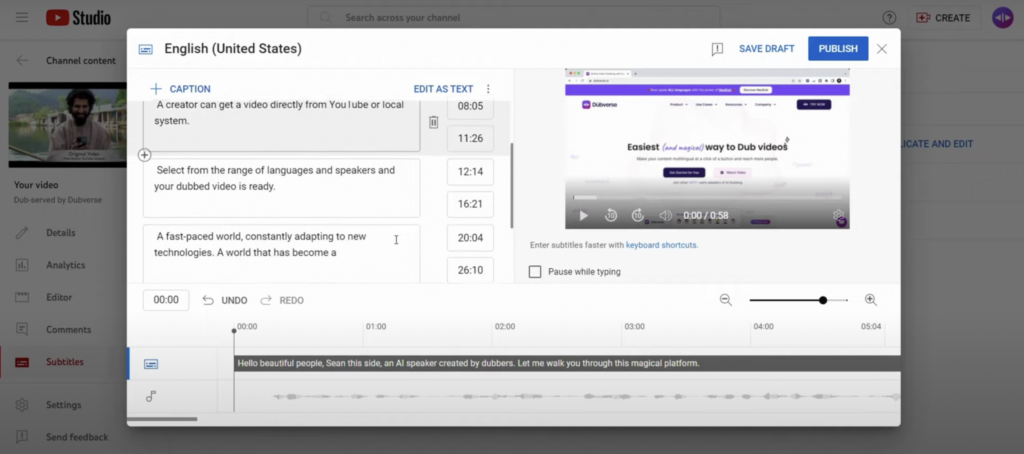 Dubverse's SUB is one of the advanced subtitles generator tools available online which not only comes with an easy-to-use editor but also offers subtitles in multiple languages. Such creator-oriented tools simplify the creation process by adding features that integrate seamlessly into a creator's workflow. For instance, you can sync your YT channel with Dubverse so you don't have to go back and forth. Simply, select the video from the dashboard that you wish to get subtitles for. The YT Studio button reduces the steps from creation to uploading by directing you to the studio directly.
Best Practices for Using Subtitles on YouTube
Regardless of the method you choose, here are some tips to ensure the accuracy and effectiveness of your manually created subtitles:
Create accurate and well-timed captions: Ensure that your captions are synchronized with the audio and accurately display the content.
Add sound effects and speaker identification: Adding sound effects in the captions can enhance the viewer's experience and help in understanding the context. Moreover, identifying speakers in a conversation makes the content more accessible.
Caption in multiple languages: Add subtitles in different languages to reach a broader audience and improve engagement.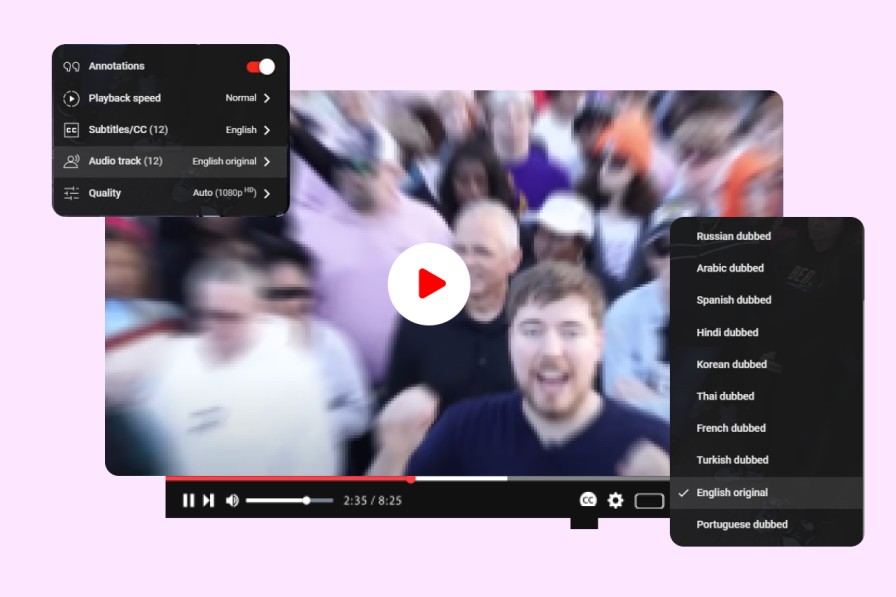 Proofread and edit: After creating the subtitles, carefully proofread and edit them for any errors or inconsistencies. Check carefully for proper nouns. Ensure that the captions reflect the intended message accurately.
Look for Time synchronization: Adjust the timing of the captions to align perfectly with the audio and visual elements of your video. With Dubverse, you get perfectly timestamped subtitles without you having to spend an extra minute on tweaking.
Ensure Formatting and styling: Use proper formatting, such as font size, color, and positioning, to make the subtitles visually appealing and easy to read.
Take care of Consistency: Maintain consistency in the style and presentation of your subtitles throughout your videos for a cohesive viewing experience.
Consider Translation: If you plan to reach a global audience, consider translating your subtitles into different languages to expand your reach and improve accessibility.

Level Up with Professional Subtitles!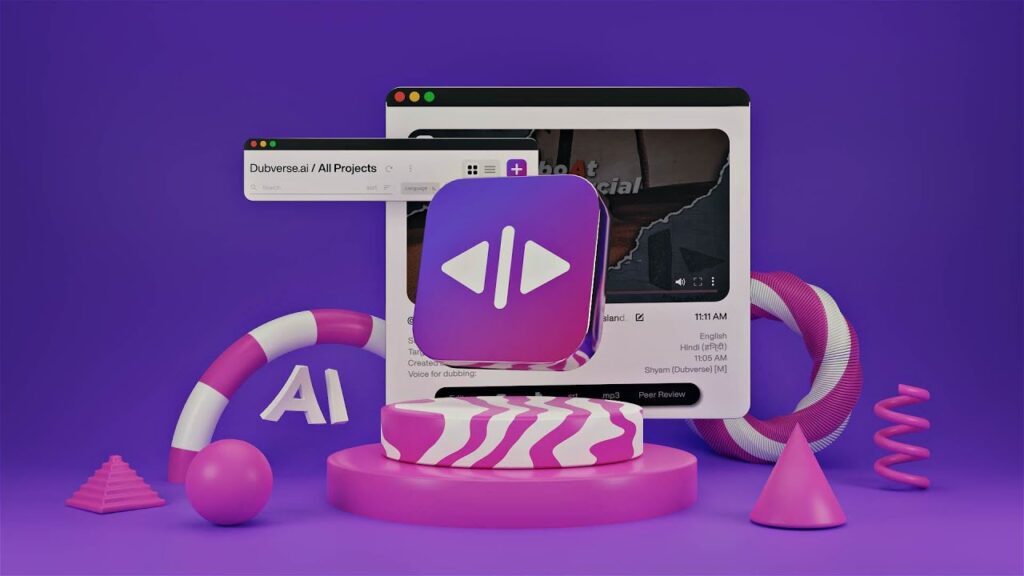 While YouTube's automated captions may seem convenient, they come with significant limitations in terms of accuracy and impact on your content. By choosing to create and upload manually created subtitles, you can ensure that your viewers have a better experience, improve accessibility, enhance SEO ranking, and avoid potential misinterpretations or offensive content. Remember to follow best practices and use the appropriate tools or services to create accurate and well-timed subtitles for your YouTube videos. Taking these extra steps will demonstrate your commitment to delivering high-quality content and foster a stronger connection with your audience.
So, the next time you upload a video to YouTube, take the time to create subtitles manually and provide your viewers with an inclusive and engaging viewing experience. Your efforts will be rewarded with increased engagement, better SEO performance, and a loyal audience that appreciates the value you bring to the table. Happy captioning!