Last few weeks, we worked extensively on Dubverse SUB to make it more accessible and usable to our users so that it helps them build a better powerful presence.
And this is what we did:
TL;DR:
Now you can embed/burn subtitles into your videos with the Burn Subtitles feature.
Customize your subtitles (font, size, color, background, and much more) in the all-new Restyle Mode.
Burn Subtitles Into Your Videos

You can now add subtitles to your videos permanently using the Burn Subtitles feature. This means that regardless of whether the platform supports subtitles or not, you can share captioned videos on any platform. Be it for portrait or landscape videos.
Add captions to YouTube Shorts, Reels, TikTok Videos or YouTube Videos permanently. And download .mp4 and .srt, and use them as you wish.
With burnt-in subtitles,
Extend viewer retention time.
Expand the distribution of your videos across platforms.
Ensure your audience doesn't need to search for a button to enable subtitles.
Some video players or platforms may encounter issues displaying or rendering closed captions correctly. Burnt-in subtitles eliminate these technical compatibility concerns, ensuring the text is always visible. They become immediately visible as soon as the video starts playing, eliminating the need for viewers to take any action to enable them. This helps you capture your audience's attention right from the start.
Unlike closed captions, which depend on viewers activating the caption feature in their video player, burnt-in subtitles are consistently present, eliminating viewer confusion and inconvenience related to enabling captions. They guarantee your intended message is consistently displayed on the video, regardless of the viewer's device or platform. This consistency is vital for maintaining the integrity of your content.
Moreover, subtitled videos are more engaging as they enable viewers to follow along more easily, resulting in longer viewing times and higher retention rates, which can benefit your social media metrics and algorithms.
BUT THAT'S NOT ALL!
You can customize your subtitles to your heart's content with the new ReStyle Mode.
Subtitle Customizations – Be Aesthetically Consistent
Get full control over how your subtitles appear on the screen, and make them more like YOU.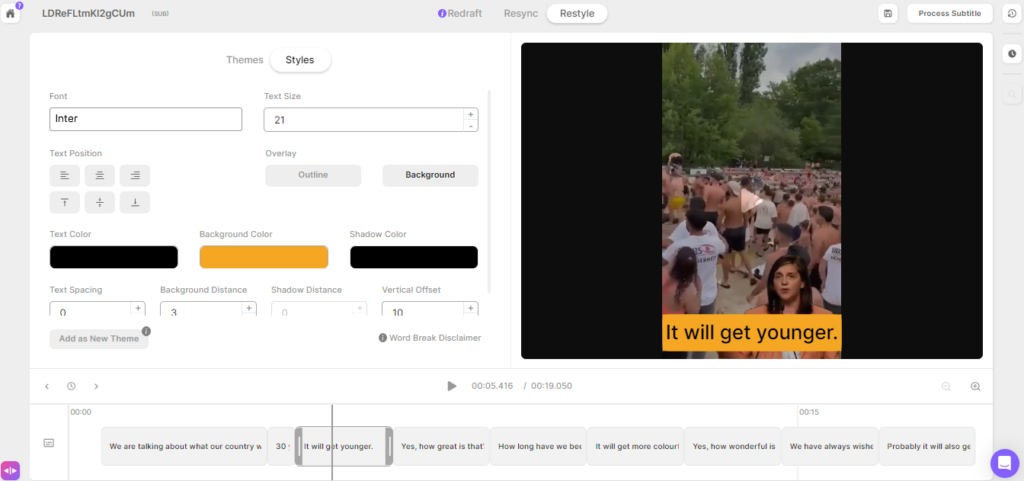 Unlimited Customization Options
Change font, text size, text position, color, and background color. You can also adjust background distance, text spacing, shadow effects, and much more. Choose from six preset themes if you prefer a quick and easy customization process.
Preset Themes
For those moments when you're short on time or customization feels overwhelming, we've included the six most popular subtitle themes. Simply select the one that suits your video.

Create Your Own Style
Want a unique style? Customize your subtitles in the Styles tab. Once you're satisfied with the layout, font size, color, and other elements, click 'Add as New Theme' to save your theme so that every time you generate subtitles, SUB would automatically pick up your preferred choice.
Have you tried the updated Dubverse SUB yet? Share your feedback with us!
Not yet? Visit the webapp now & try it out!
Stay tuned for more exciting updates and enhancements coming your way. We're glad to have you as a part of the Dubverse community!