How Loginion grew from 10K to 116.4K Subscribers in
just a Month
10X subscriber growth in 1 month : Dubverse Powered Subtitling Case Study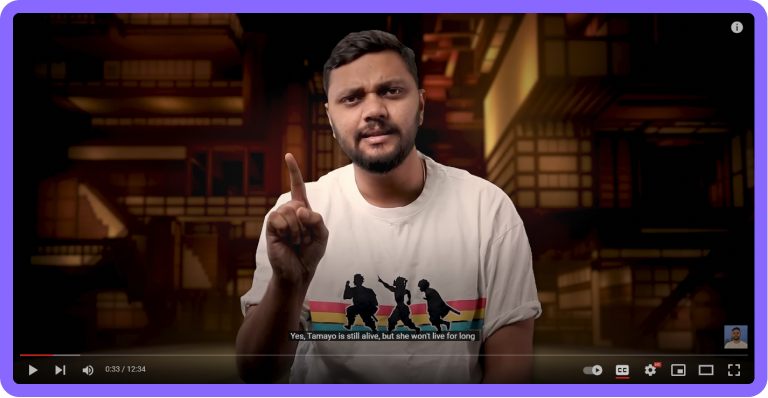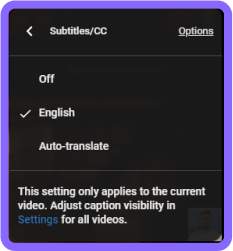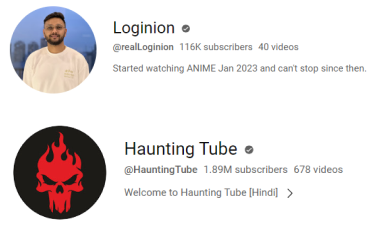 Meet Divyanshuu Logi, who runs the popular YouTube channel, Haunting Tube, which has 1.87M subscribers and over 322 million views. Known for his spine-chilling stories and paranormal activities videos that he publishes thrice a week, Divyanshuu realized the importance of making his content accessible to a wider audience. So when he started his new channel, where he talks about his newfound passion for anime, Divyanshuu decided to add English subtitles to his videos to boost his reach. And the results have been phenomenal.
For his Haunting Tube channel, Divyanshuu employed a professional to create and add subtitles to his videos. However, the process of manually adding subtitles was time-consuming; it took more than a day to complete. The videos would be live on his channel without subtitles for 24 hours before they had accurate time-stamped subtitles. This delay negatively impacted the views on his channel and he didn't enjoy the reach that he expected, which prompted him to solve the problem.
So for his new channel Loginion, which is dedicated to anime content, Divyanshuu started exploring various AI-powered subtitle generator tools. And that's when he discovered Dubverse, an advanced AI-powered localization platform for dubbing and subtitling. Dubverse's SUB tool specializes in creating accurate and high-quality subtitles in 30+ Indian and global languages with just a click of a button — all within minutes. And the results have been incredible not only for his workflow but also for his channel's growth. Let's take a deep dive into the results:
Speed, Accuracy and Scalability​
Unlike other tools that transcribe and then translate into target language, Dubverse directly generates English subtitles retaining the message and tone with a few clicks. His subtitle creation process reduced from over a day to a mere 15 minutes! He gets automated timecode subtitles which need little to no edits to seamlessly publish his videos on YouTube.
Easy-to-use Advanced Studio
Dubverse's user-friendly editor is super easy to use for final adjustments. It enables users to find and replace words easily. Divyanshuu had to use the editor primarily to tweak the characters names.
The integration of YouTube in the Dubverse SUB tool has made the process even easier. Divyanshuu can directly connect his channel to the platform, which fetches both listed and unlisted videos without switching tabs or copying URLs. Adding subtitles to his videos is now a breeze!
Opportunity to Add More Languages
Dubverse SUB offers subtitles in 30+ languages. Divyanshuu can easily add more languages to his videos depending on his audience's preferences to expand his reach to regional and global audiences.
Dubverse's AI Subtitling Process
With just 40 videos, I reached 100K+ subscribers. The best part is I have to do nothing. Dubverse is super easy to use. I do everything on the platform. I skim through the script and export the file. That's it. The most painful part for me used to be generating subtitles, but thanks to Dubverse, that problem is now solved.
86% of Loginion fans prefer using English subtitles while watching Hindi Videos.

AI Subtitling Driven Growth
Increased Subscribers & Engagement
Divyanshuu's channel's subscriber count skyrocketed from 10k to 100k+ within a month with just 40 videos.
Amazing User Adoption for Subtitles
Around 75% of viewers preferred watching videos with subtitles, and when Divyanshuu conducted a poll, 86% of respondents said "YES" to subtitles.
Loginion has nearly 30% of its views from international audiences. It's quite an achievement considering that Divyanshu's other channel primarily attracts 85% of viewers from India.
SEO Boost for Higher Ranking
Uploading videos with subtitles without wait time led to search engine optimization (SEO) of his videos, making them more discoverable . Divyanshuu uses the early engagement to attract more views and expand his audience.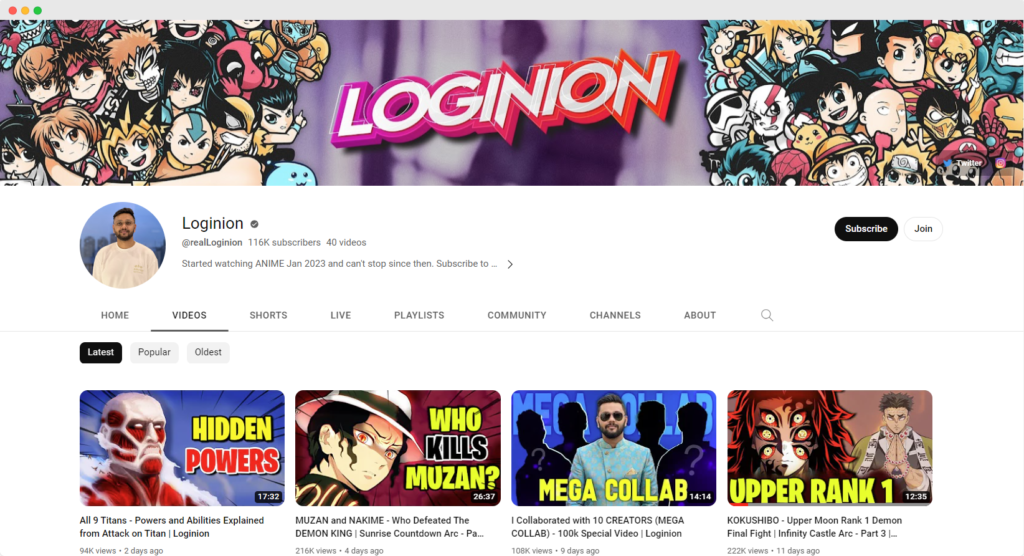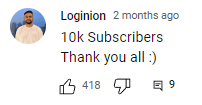 I was searching for a tool create subtitles for my videos and reach a larger audience . I tried 2-3 platforms. They would generate Hindi subtitles first and then translate them into English, which didn't work well. Then I came across Dubverse, and it resolved the problem. It only took around five minutes to subtitle a 5-minute video. All I had to do was quickly review it, and I was done within 10-15 minutes. I immediately bought the subscription.
Started from the bottom Now he's here !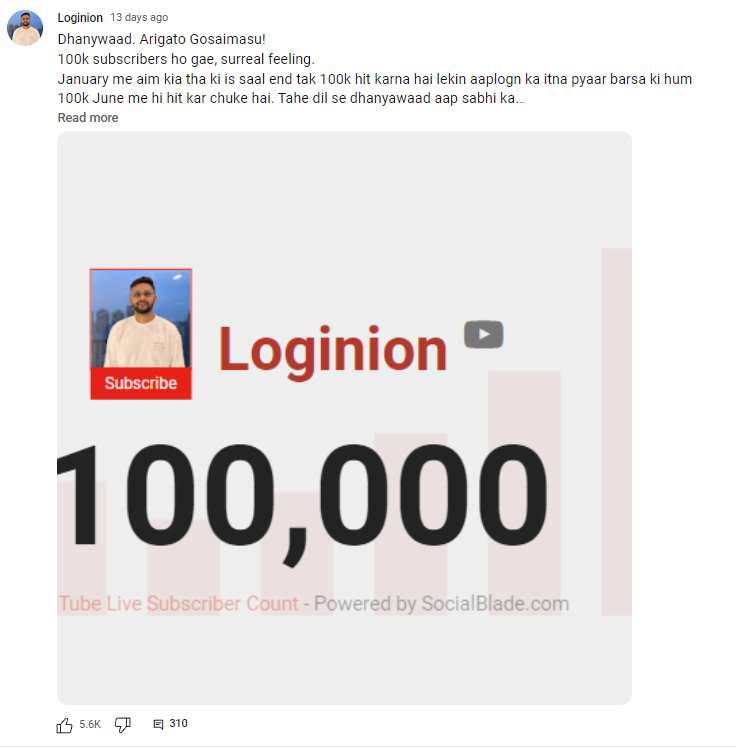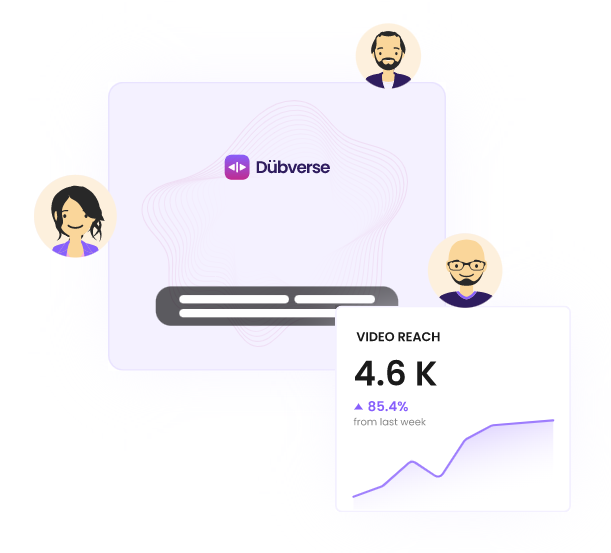 Dubverse SUB emerged as the perfect solution for Divyanshuu's subtitling needs and played a pivotal role in expanding his audience and connecting him with viewers who would have otherwise missed out on his amazing content! For growing creators, adding multilingual subtitles can be a game-changer for their channel's success. Are you ready to give it a try? Check out Dubverse SUB now.
Generate, Edit, & Export
Subtitles
for videos in any language