Create multi-lingual Content,
on the go!
We help creators, produce content in multiple languages
cause expression should not be bounded by a single language
Video Creation, now on Steroids!
Let's face it, video creation is hard, video dubbing shouldn't be. You focus on creation, we focus on making them go multi-lingual. With the power of AI, translate videos faster and relax while it happens.
You said video dubbing doesn't have to be just audio, we listened.

Now you have the power of translating pixels by changing the text on screen making it feel like the original.
Machine + Human, best of both worlds. You can now choose the voices, language and the words with just a matter of a few clicks. Get close to your content so the content goes close to the audience.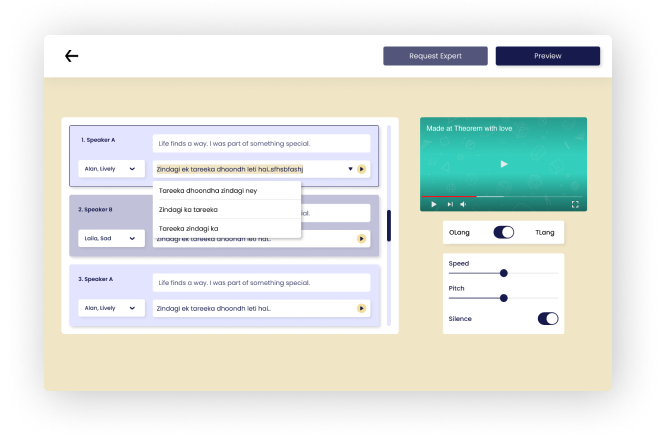 We don't do just normal dubbing 😛
Is Dubverse for your team?

With experts on board for quality assurance the quality remains at par without getting lost in translation. We got you covered for lectures, tutorials, courses and more.

Your employees need to listen to you in their language. Standardize your training videos with us and go beyond borders.
Skip looking for VO artists on fiverr and make your video speak more languages than you know. With us, now going multilingual is easier than ever.

Get your communication right across geographies. Look at us for video dubbing how you look at canva for graphic design

Skip following up with your production team and rely on us getting your video content delivered on time. Happy clients, happy you.
in our early days, we got selected by JIOGennext, an accelerator run by India's biggest brand – Reliance Jio. This gave us enough fuel to get started and get us to a stage where we got a chance to participate in the world's largest telecom ecosystem.